Cookie preferences
This website uses cookies, which are necessary for the technical operation of the website and are always set. Other cookies, which increase the comfort when using this website, are used for direct advertising or to facilitate interaction with other websites and social networks, are only set with your consent.
These cookies are necessary for the basic functions of the shop.
"Allow all cookies" cookie
"Decline all cookies" cookie
Customer-specific caching
These cookies are used to make the shopping experience even more appealing, for example for the recognition of the visitor.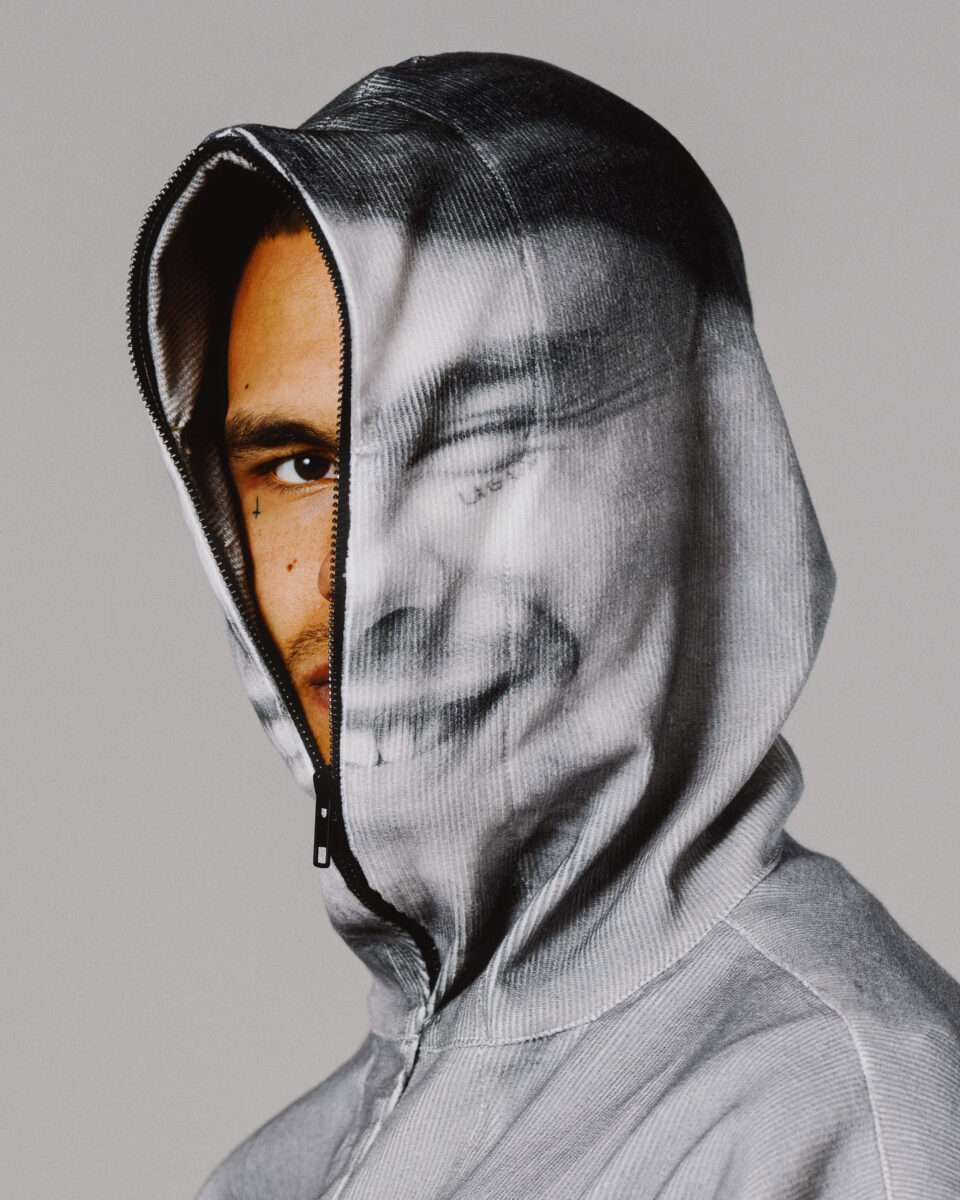 This product is currently not available.
Date:

Friday, 29 September 2023

Venue:

Metropol

Doors open:

19:00

Beginning:

20:00
Veranstalter: Trinity Music
slowthai's third album may show a side of him that people haven't heard before but he sees it...
more
UGLY WORLD TOUR
slowthai's third album may show a side of him that people haven't heard before but he sees it as the fullest picture yet. "The first album was the sound of where I'm from and everything I thought I knew," he says. "The second album is what was relevant to me at that moment in time, the present. And this album is completely me — about how I feel and what I want to be… it's everything I've been leading up to." The album cover is suitably up close and personal, with the camera zooming in tight on the left side of his face. The title of the album — an acronym for U Gotta Love Yourself — is freshly tattooed beneath his eye. slowthai doesn't do things by halves. "I can't make something unless I've gone through something," he explains. "I had to pull myself apart and rebuild and that's what I wanted the cover to signify."
UGLY is about reconnecting with first principles. Plunging into rock music, with as much singing as rapping, it is both a striking departure for slowthai and a return to the roots of Tyron Kaymone Frampton. When he was a teenager in Northampton he loved emotionally intense rock music, notably the likes of Nirvana, Radiohead and Daniel Johnston, and wanted to join a band but that's hard when you don't play an instrument and feel self-conscious about singing in public. Hip hop, his other love, enabled him to be a self-reliant vocalist and producer. "Now I can have my own band," he says with a grin. "This album was me trying to emulate the spirit of the brotherhood ethos that bands have. Music is about the feeling and emotion that goes into it. Like an artist making a painting, it's the expression of that moment in time. I really felt like I didn't want to rap, whereas before rap it was the only way I could express myself with the tools I had. Now that I have more freedom to create and do more, why wouldn't we change it up?" Attentive listeners will have noticed this musical tendency. slowthai's Mercury-nominated 2019 debut Nothing Great About Britain featured the punk-rock gallop 'Doorman' and a collaboration with rock band Slaves (now renamed Soft Play) on the track 'Missing'. During radio sessions for his number-one follow-up, TYRON, he covered The Verve and Elliott Smith. He is as ready to guest with Idles and Gorillaz as he is with Pa Salieu or Disclosure
With UGLY, slowthai has finally found his band — sort of. Recorded in producer Dan Carey's home studio alongside ​​frequent collaborator Kwes Darko, it's a fluid combination of musicians including Ethan P. Flynn, Jockstrap's Taylor Skye, Beabadoobee guitarist Jacob Bugden, drummer Liam Toon, and on the dark and woozy title track, his friends Fontaines DC. "They're men after my own heart," he says. "They love what I do, I love what they do. Together it's amazing." After jamming with the musicians, slowthai would write the lyrics, most of which he sings rather than raps. "I'm no Aretha Franklin but I ain't trying to be. Singing is just expressing yourself."On UGLY, slowthai rediscovers what he fears he was losing. His debut was irresistible for its riotous enthusiasm and maverick authenticity but success began to eat away at both qualities. Naturally funny and honest, he worried that what began as raw self-expression was congealing into a persona — a cartoon version of himself. "People see you as a character. They don't actually know who you are. You're stereotyped as the nutter who gets in his boxers. I was doing that to show that you should be free at shows and enjoy yourself but you choose to see me as an idiot."
Lockdown provided an opportunity for self-reflection — "Things I'm not trying to live up to anymore, understanding exactly what I want" — but the real turning point was the birth of his son in June 2021. "Having a reason to live other than music or my family is eye-opening," he says. "My care for what people think of me has become even less. Outside of this, nothing matters."He also took up therapy, only to realise that the therapist was telling him things he had once known but had forgotten. That's the theme of Sooner, which sounds like a revved-up Libertines. "I didn't have a care in the world when I was rolling around with my friends in a 306 and falling in love. Now I have to think twice about what I say, but why? The fear of not being liked? Who gives a fuck? I wish I'd come to the epiphany quicker. It took me 10 years to get back to where I was originally and learn that everything I believed along the way didn't mean fuck all."
He did get some songs out of therapy, though. Fuck It Puppet was his therapist's name for the self-destructive imp on his shoulder, whose voice also figures in the panicky, industrial opener Yum: "More coke, more weed, more E's, more trips…" slowthai has quit smoking weed and drinking to excess but the impulse doesn't go away. "Yum is me saying this is what people want me to do but this isn't doing anything for me. I'm ready to leave it all behind but it keeps pulling me back — more this, more that, it's never enough."One of UGLY's themes is the irony of life. Feel Good (with backing vocals from Shygirl) is about not feeling good and Happy about not being happy, although the songs have enough rampaging energy to make you feel otherwise. The album's working title was Wotz Funny and the track of that name, growling like the Stooges, explores why we laugh at things we shouldn't. "My sense of humour's been so dark because of my environment," he says. "What's funny is everything that isn't. You might as well laugh otherwise you'll cry."
Even as the music thrills, slowthai digs deep into the anxieties of the past few years. Lead single Selfish describes his conflicted feelings about not having enough time for those around him. "I want to be there for them but I'm always striving, working, reaching further." Ambition that takes him away from those who'd like him to be around more could be viewed as selfish but he sees it more as selflessness as he's working for everyone's future.The wracked ballad Tourniquet is a metaphor for giving away pieces of himself, like amputated limbs. Falling is a Pixies-esque evocation of numbing depression. "It's about being stuck in that place: I'm here but I'm not here. You take a back seat in your own life."There is room for one tour de force of cinematic hip hop storytelling. Never Again's urban tragedy, featuring Ethan P. Flynn, draws on the dislocation of going from a council estate to the top of the charts. "You become an outsider in your home," slowthai explains. "Everyone believes you do these things and you're suddenly a millionaire. You have to save everyone. How the fuck can you save everyone if you can't save yourself? That's how you separate your true friends from the other people. They know you're the same person who can chat shit and have a laugh."After all that, slowthai says, the unexpectedly tender 25% Club is the album's hard-earned happy ending. "People say, 'I'm 100% myself, I don't need nobody,' but I believe that nobody's really 100%. This is about that person who motivates you to be better. That missing 25% is love."
In the spirit of starting all over again, slowthai will launch the album with a series of furiously intimate pub gigs across the country in mostly forgotten towns and cities, with tickets priced at an inflation-busting £1. In stark contrast, he will be supporting Blur at Wembley Stadium in June, having worked with Damon Albarn previously and notably on the Gorillaz track 'Momentary Bliss'. "I'm so gassed," he says. "Damon's like my older spirit animal. If I end up like him, I'll be happy."UGLY is a new direction but not necessarily a permanent one. The message is change after all. "When something becomes a comfort, I feel like you have to do the thing that you're uncomfortable doing," slowthai says. "When I come back to rap I'll be able to blend it all and do something bigger and better – you've got to push."The whole process of making UGLY has been one of relearning not to care what people think and reclaiming the freedom that drew him to music in the first place. "It's music innit?" slowthai says with a laugh. "Breaking down the barriers of what you're meant to be. It doesn't matter what or who people think you are, you've just got to stay true and respect yourself. I have UGLY tattooed on my face because it's a reminder to love myself, rather than put myself down constantly or feel the impression people have of me should determine who I am as a person. At the end of the day, the art I make is for myself, and the music I make is for myself, if I enjoy it then who gives a fuck. So, the way I should live my life should be without any expectations of anyone else. I think it's something that we all need to hear because everyone needs a smile, and everyone needs a bit of joy and you need to look in yourself to really feel it because no one else can give you the real feeling."