Cookie preferences
This website uses cookies, which are necessary for the technical operation of the website and are always set. Other cookies, which increase the comfort when using this website, are used for direct advertising or to facilitate interaction with other websites and social networks, are only set with your consent.
These cookies are necessary for the basic functions of the shop.
"Allow all cookies" cookie
"Decline all cookies" cookie
Customer-specific caching
These cookies are used to make the shopping experience even more appealing, for example for the recognition of the visitor.
© SOHO BLACKHAM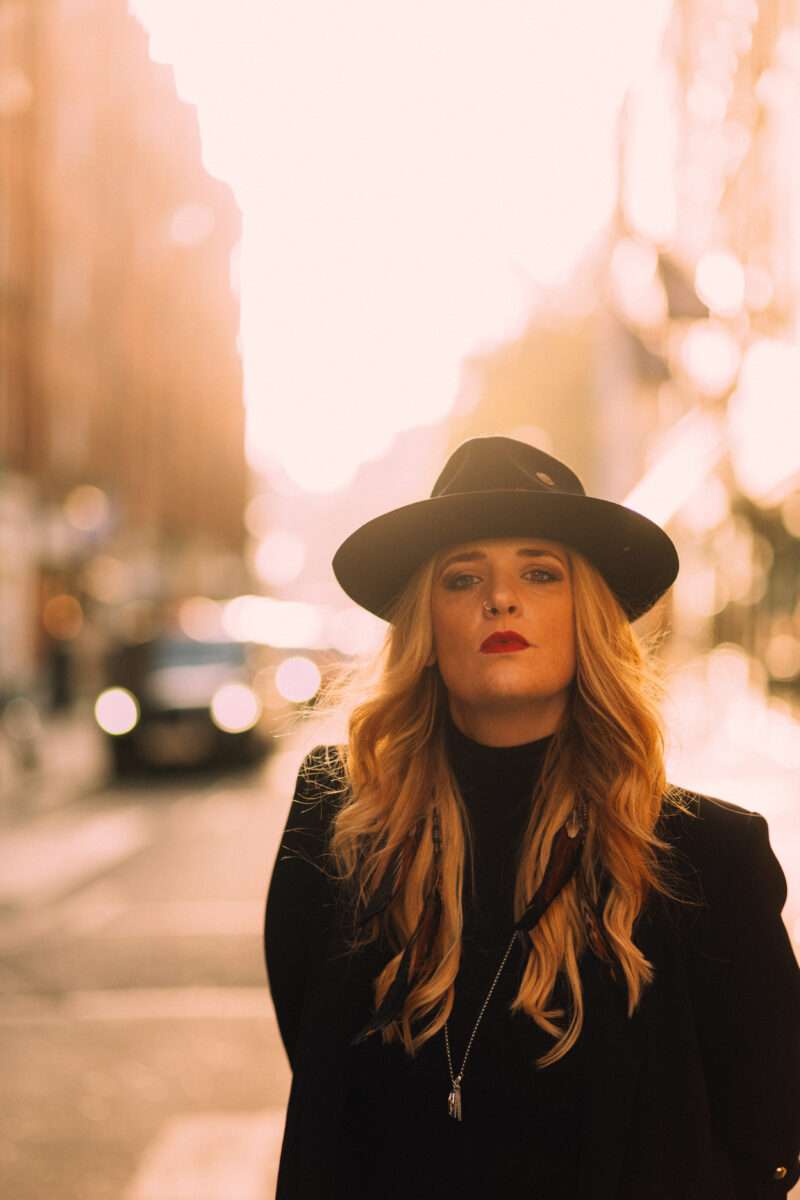 Date:

Saturday, 25 November 2023

Venue:

Quasimodo

Doors open:

21:00

Beginning:

22:00
Veranstalter: Trinity Music
To an artist without the creative energy and laser-focused determination of Elles Bailey, it...
more
To an artist without the creative energy and laser-focused determination of Elles Bailey, it could all have been very different. But when you're the hardest-working woman in blues, rock and roots music, not even the tumultuous world events of the past two years were going to stop you from writing several new chapters in a remarkable story.The Bristol-based singer, songwriter and bandleader, who has powered her way to the forefront of the British blues and roots scene in recent years, is excited to unveil her eagerly-awaited third album Shining in the Half Light. Crammed with vibrant originals brought to life with her A-list band, it's yet another significant step forward in a career already feted with awards and acclaim generated by her two previous studio sets, 2017's Wildfire and 2019's Road I Call Home. Shining in the Half Light arrives on the heels of Bailey's typically extensive autumn tour of the UK and such preview tracks as 'Cheats and Liars' and 'Sunshine City.' For anyone who loves their combination of thought-provoking bluesiness and sassy rock, there is so much more where they come from. These are ten new tracks by an artist who, as she sings in 'The Game,' always dances to the beat of her own blues. She co-wrote the entire album with a variety of collaborators and recorded it in Devon, with her band and producer Dan Weller. Tracking was completed just weeks before Elles gave birth to her first child and she sat in the hospital waiting room listening to mixes on the big day!
The height of the pandemic also gave rise to her series of cover version livestreams, Ain't Nothing But. The ensuing record was nominated as Blues Album of the Year at the UKBlues Awards 2021, where Elles was named UK Blues Artist of the Year for the 2nd year running. Let's also remember that Road I Call Home, recorded in Nashville, had been crowned Album of the Year at those awards, and its song 'Little Piece of Heaven' (written with American greats Bobby Wood and Dan Auerbach) was UK Song of the Year at the UK Americana Awards 2020.
For the new listeners that Elles attracts with every play, that voice was the silver lining of a potentially grave illness, when at just three years old, she contracted viral and bacterial pneumonia, and had to breathe through a tube for 17 days. "Only with the real heavy touring did I start to really understand that it's such a big part of me," she reflects. "I know how fortunate I am that I walked away with a husky voice. And my life."After residencies on the Bristol scene, her first EP Who I Am To Me came out in 2015, followed two years later by that full Wildfire debut. It was an exhilarating confirmation of a unique talent already marking her card with passionate, visceral live shows. Two more years of touring and writing later, Road I Call Home arrived as a remarkable companion with all the fire of the first set, plus maturity, perspective and downright soulfulness.Now back to the future, and the title of the new album. "It's called Shining in the Half Light because there we all were, in this time of complete uncertainty, worry and isolation, and yet artists were still putting themselves on a screen, warts and all, and that brought people together," says Elles. "I was so inspired by all the musicians, poets, artists and everyone who were like, 'I don't quite know how to do me in this time, but I'm going to try anyway.' That to me is what the album is about. It is a record inspired by those who spread love in a time of heartbreak, happiness in a time of fear & connection in a time of loneliness.Lyrically, Bailey has never pulled punches, and this time she's delivering knockout blows. Take 'Cheats and Liars.' "It's about the people in their ivory towers who made us feel like the arts don't really matter, and to go and retrain," she says. "Thirty-eight percent of musicians, including myself, didn't get any kind of government funding, and some people lost everything. It's been so hard watching how arts has been undervalued at a time when that was what was bringing people together."
For an artist who lives for live performance, lockdown brought its share of challenges, of course. Suddenly and unavoidably, after gigging her way to prominence over several years, the road she called home was home. But as ever, she turned it into a positive."It's the first full album I've made here in the UK, I was 6 months pregnant when I made it, and it was made right in the middle of lockdown," she exclaims. "It still sounds like an Elles Bailey record, but it does feel like it's expanded and been given a new perspective."The record was made throughout December 2020, doing a week of pre-production followed by nine days in Middle Farm in Devon. "It was a very different, yet exceedingly fulfilling experience," she admits. "I've made records in Nashville and I was going to make this album there in May 2020, but obviously that couldn't happen. But I knew I had an amazing band here that could do an incredible job on this record, I just needed to find the right producer.The search for a like-minded collaborator led her to rock producer Dan Weller, best known for his long working relationship with Enter Shikari. "He's not in my musical world at all, so that in itself was a huge step into the unknown" she confides. "But we chatted on the phone a lot through the summer, and just clicked. We both seemed to be on the same page with what we wanted to achieve from the album, and how best to go about it. I had about 40 songs, probably, and it was a case of really shaking the tree until we got these ten tracks. Then we just got in a room, played live and let the musicians do their thing, and built it that way."
The musicians that feature are Joe Wilkins on guitar, Jonny Henderson on ivories, Matthew Waer on bass duties and Matthew Jones on drums. The finishing touches were then added by artist Izo Fitzroy who brought Andrusilla Mosely and Jade Elliot on board to immerse the album in their stunning, gospel-inspired backing vocals. An exciting team of co-writers came on board, too, with three credits for Ash Tucker & Will Edmunds, who also wrote with Elles for Road I Call Home. She teamed with longtime guitarist Joe Wilkins to write the slow-flowing, philosophical 'Riding Out The Storm.' Other kindred spirits include guitar maestro Martin Harley, for the gentle and romantic 'Different Kind Of Love,' and Matt Owens, co-founder of the hugely successful indie-folk outfit Noah and the Whale, on the aforementioned 'Sunshine City'. Alex Maile, Tamara Stewart and Brett Boyett also have one each. The album comes to a striking conclusion with its title track, co-written with Nashvilles, Craig Lackey, over zoom in May 2020. Its message, and its description of the time in which it was made, are delivered with restrained power. "Feel like we're living where we can't be seen," sings Elles. "Here we are lost in the in-between, reaching out to each other through a cold glass screen, losing our grip on a dystopian dream." As she says: "That's probably the only time that I was as direct as that. It's an album inspired and made in 'lockdowns', but I'm quite glad that it doesn't give that away too much."
Shining In The Half Light is an album of self-realisation, but one that lets everyone share in its sense of realism and, ultimately, positivity. "It's a new perspective for me," says Elles. "I have no idea what it would have taken to get me off the road. I think I would have found it really tough, taking time off to have a baby and watching everyone else still doing their thing. So the fact that there was this forced stop, gave me the time to shift my perspective, and that's what this record is all about."This album has been about getting to know who I am without the show, the stage and the splendour," she concludes. "unraveling the layers and being ok with them, and learning to love each and every version of myself, and of course getting to know this new version, being a mum! This whole record has been about finding a new way to do things, and seeing the blessings I have right in front of me. That's been really weight-lifting and refreshing."