Cookie-Einstellungen
Diese Website benutzt Cookies, die für den technischen Betrieb der Website erforderlich sind und stets gesetzt werden. Andere Cookies, die den Komfort bei Benutzung dieser Website erhöhen, der Direktwerbung dienen oder die Interaktion mit anderen Websites und sozialen Netzwerken vereinfachen sollen, werden nur mit Ihrer Zustimmung gesetzt.
Diese Cookies sind für die Grundfunktionen des Shops notwendig.
"Alle Cookies ablehnen" Cookie
"Alle Cookies annehmen" Cookie
Kundenspezifisches Caching
Diese Cookies werden genutzt um das Einkaufserlebnis noch ansprechender zu gestalten, beispielsweise für die Wiedererkennung des Besuchers.
ROLE MODEL
+ FLOWEROVLOVE + OLIVER MALCOM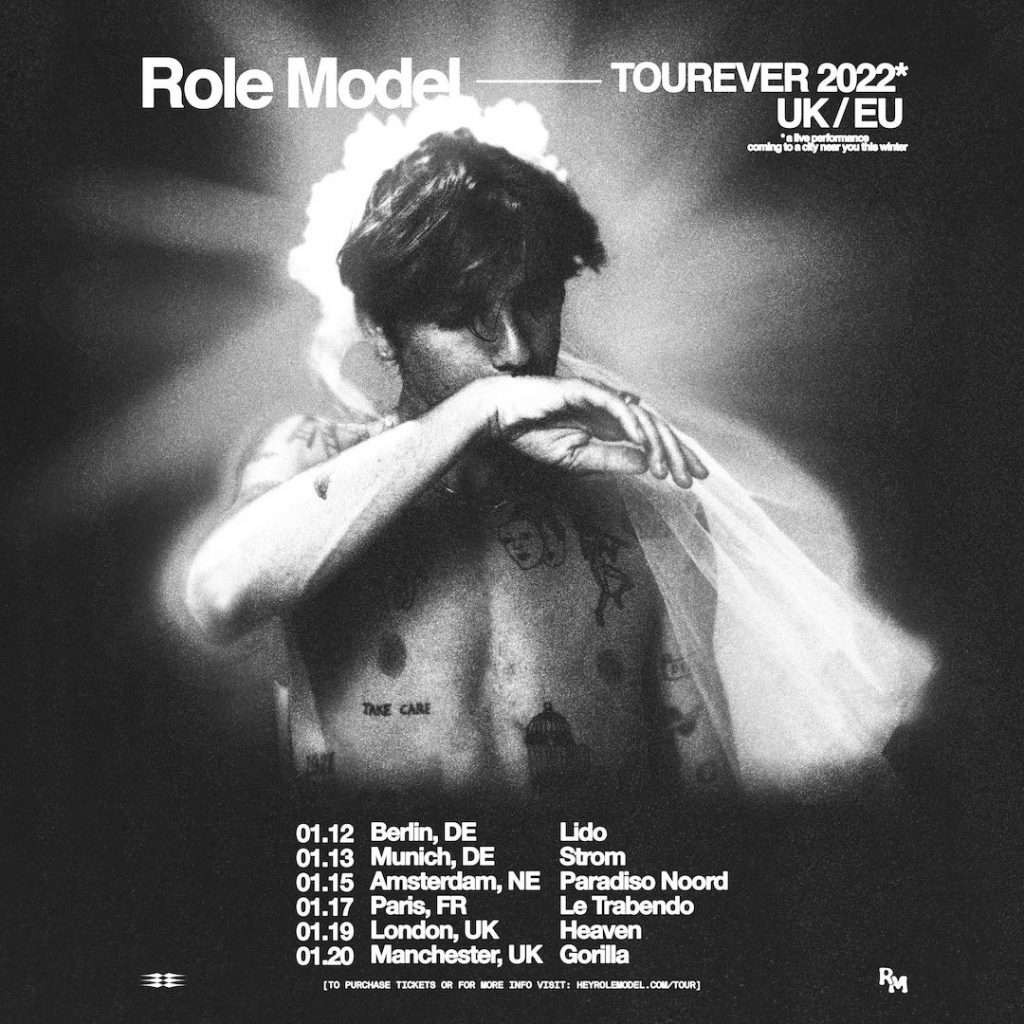 Dieser Artikel ist derzeit nicht verfügbar!
Online nicht mehr verfügbar. Bei nicht ausverkauften Konzerten gibt es Tickets in unserem Laden in Schöneberg (Tel. 030 301 06 80 80) oder an der Abendkasse.
27,25 € *
zzgl. Systemgebühr:
1,50 € *
inkl. MwSt. zzgl. Versandkosten
Datum:

Dienstag, 16. August 2022

Ort:

Kesselhaus

Einlass:

19:00

Beginn:

20:00
Veranstalter: Trinity Music
Life spins around like a carousel. It rotates through sadness, happiness, pain, and joy with the...
mehr
TouRX 2022 World Tour
Life spins around like a carousel. It rotates through sadness, happiness, pain, and joy with the same frequency, never overstaying its welcome with any single emotion. Role Model—a.k.a. Tucker Pillsbury—moves through music in a similar fashion. One moment, he's crooning about his crush's earrings over crunchy chords. The next, he's spitting bars about staying home. Either way, the intimacy of his songwriting beckons connection. You'll experience doubt, anxiety, infatuation, and even love rightnext to him. After gathering nearly 200 million streams and receiving acclaim from The Line of Best Fit, HYPEBEAST, coup de main, Earmilk, and many more, he illuminates every side of himself on a series of 2021 singles and his full-length debut album for Interscope Records.
"There are so many sides to this," says Tucker. "I've realized it doesn't have to be just one thing. Musically, it's pop and hip-hop. Lyrically, I wanted to show another side of who I am and tell stories. I feel like I've really embraced this versatility." His story kicked into high gear back in 2017. Following the Soundcloud success of "Cocaine Babe" and "Girl In New York," he earned the respect of late idol Mac Miller and Benny Blanco. Trading Maine for California, he made waves with the oh, how perfect EP in 2019, generating tens of millions of streams on "hello," "notice me" [feat. BENEE], and "that's just how it goes." A year later, his momentum only increased with the follow-up our little angel EP. The single "blind" eclipsed 40 million Spotify streams, while coup de main hailed it as "must-listen." The Line of Best Fit praised his "songs with tenderness and Gen Z apathy." With touring (and everything else) shutdown due to the Global Pandemic, he dove into building his next body of work in earnest.
At the same time, an unexpected development changed his perspective as a lyricist altogether. He fell in love… "I was always very against falling in love, because I was horrified at how it would affect my music," he confesses. "I stayed away from it and put walls up. This hit me like a train, and I'm glad it did. It contributed to my music. It was a whole new world. I didn't realize how lonely I actually was. The music is really all about this person who has come into my life, and how it's saved me." After a few ZOOM sessions with frequent collaborator Spencer Stewart [Alessia Cara, Lauv], they ducked out on two writing trips together, stealing away to an Airbnb in Pasadena and Joshua Tree. Rallying
around a shared vision, Spencer took on the role of Executive Producer and indelibly inspired the direction. "I started being very open in a new way," Tucker goes on. "Spencer really helped me use my voice. He pushed me to authentically create visual stories in these songs to keep it cohesive. Before that, I did a lot of stream-of-consciousness writing, which is cool and artistic. However, I loved the storytelling aspect we were unlocking. He picked everything apart. He would ask me what phrases meant. It ended up feeling more cinematic." Speaking of, the first single "forever & more" glides along on a sun-soaked guitar loop and glitchy beat as he details the bliss of new love, "I've never felt like this before. Can't pick myself up off the floor. That's something new. I'm stuck with you." With its nostalgic hook and vivid lyrics, it easily could've soundtracked a montage in some turn-of-the-century teen comedy. "It's obviously a love song," he smiles. "We wrote it on the last day we were in Joshua Tree. As soon as Spencer played the guitar chords, I wrote that initial lyric, 'By the end of the summer, she was a lover.' I really wanted to set up scenes of how the relationship started and the little moments that got us to where we are. This is the first time I'm letting people into the relationship and giving them visuals of those early stages and how I see it going in my head forever and more." In the end, Tucker assembles, disassembles, and reassembles different vibes, sounds, and emotions into Role Model. "It's cool the audience has seen me figure this out along the way," he leaves off. "The message stays the same though. I don't think Role Model ever needs to be a shiny and perfect thing. I want to give listeners something realistic to look up to with all of those flaws and imperfections on display. Not only is it more real, but I believe those imperfections bring you closer to perfection. To me, it feels like all of that lined up in this music pretty perfectly."