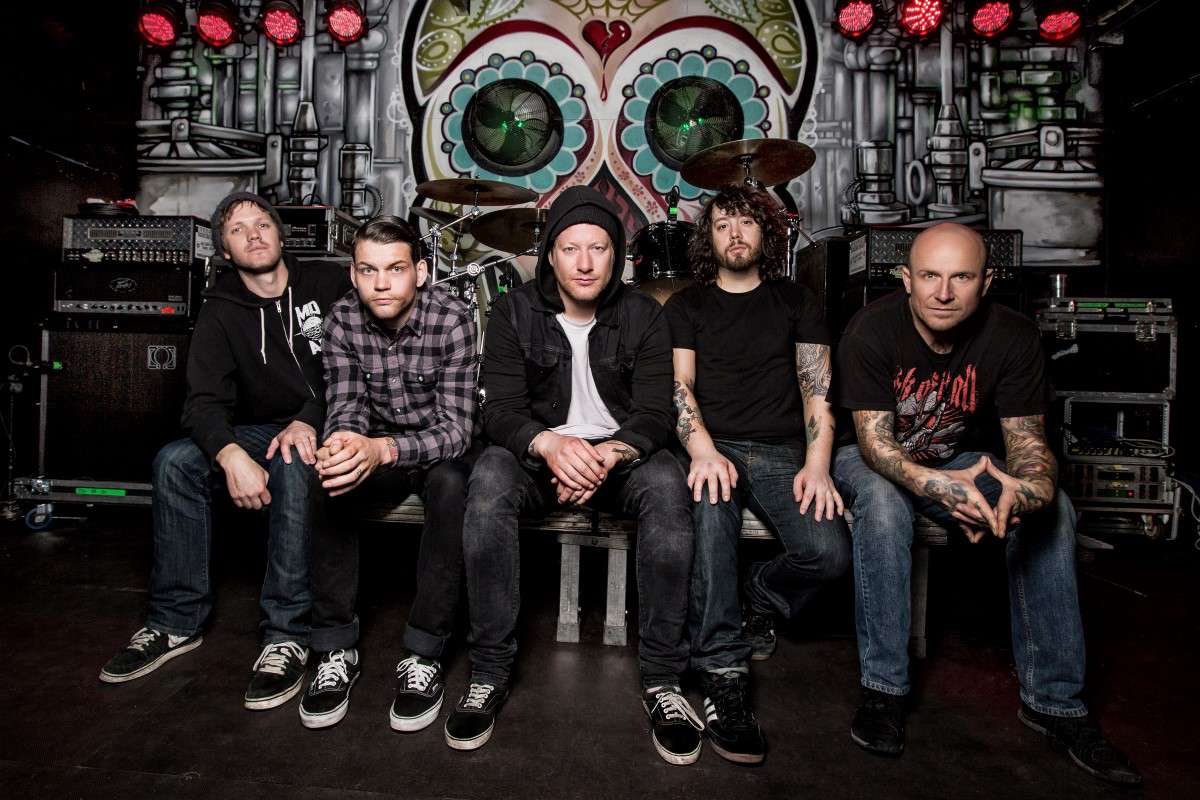 Since dropping their debut full-length, 2003's Turn It Around, COMEBACK KID has been an...
mehr
Since dropping their debut full-length, 2003's Turn It Around, COMEBACK KID has been an undeniable staple of the hardcore community. Each subsequent release has built upon the foundation of its predecessor while continually experimenting with and incorporating new musical elements from beyond the confines of modern hardcore. Five seconds into the band's latest album, Symptoms + Cures, though, it's made clear that this time around COMEBACK KID has pushed their output to a new plateau. Originally formed in 2000 by members of Winnipeg, Canada's underground music scene, COMEBACK KID has amassed a catalog of four full-length international releases along with a live CD/DVD. Says current vocalist Andrew Neufeld about the band's origins: "We wanted to keep the intensity from our other bands or those we looked up to at the time, but also took influence from '90s skate punk and more melodic acts."
He continues: "We wanted the music to be heavy, but the vocals were meant to incorporate a bit more melody than was found in traditional hardcore. Still, I don't think we knew how far we could go with it at the time." The band's sophomore effort, 2005's Wake The Dead, affirmed their position atop the heap of modern hardcore bands; however, when writing commenced for 2007's Broadcasting…, then-vocalist and founding member Scott Wade announced his departure from the group, finding Neufeld abandoning his axe to take over vocal duties. But Broadcasting… didn't miss a beat. With Neufeld more than capably filling Wade's shoes, they delivered a powerful record that was undeniably COMEBACK KID while incorporating further-developed musical ideas and a more colorful vocal performance. Having delivered their pure and passionate brand of hardcore to fans around the world since 2002, COMEBACK KID released a live CD/DVD package dubbed Through The Noise in 2008.
On top of accurately relaying the intensity and attitude of a COMEBACK KID performance through a 17-song set list comprised of favorites from the band's three previous releases, it also included an hour-long documentary entitled "Our Distance" that shared the band's story to date. The documentary allowed fans an inside look their tours, how they started and where they are going, testament to their desire to remain connected to their crowds. Since then, the band has dominated stages on several continents and worked on an array of other projects, musical or otherwise, all while composing the fourth COMEBACK KID record. Officially dropping August 31st, 2010, Symptoms + Cures is the latest offering from the lineup currently consisting of Neufeld on vocals, founding members Kyle Profeta on drums and Jeremy Hiebert on guitar, as well as guitarist Casey Hjelmberg and bassist Matt Keil. The album is firmly rooted in the brand of hardcore that its three predecessors helped established, yet incorporates more musical layers and vocal variance than we've heard from the band thus far. "We really found our mesh with Andrew singing," says Profeta about the effort. "Our last album was more of a 'feeler.' We were just getting in the mode of Andrew becoming our front man. With Symptoms + Cures, we've really found our sound with him and we're all really excited about it."
Trademark elements of the band's sound are abundant on Symptoms + Cures – gang vocals, half-time bridges, and tastefully-placed breakdowns among them. However, the record also features a more dynamic vocal performance than we've previously heard, weaving a much harsher and urgent vocal delivery with sing-able passages, not to mention new musical expansions that stray from the straight-up simplicity of hardcore. Still, these new elements only serve to enhance, not overpower, the core of their sound – and this is assuredly a COMEBACK KID album.
Upon delivering the new project to the masses, COMEBACK KID embarked on a world tour, hitting North America, Europe, Asia, and South America and sharing stages with acts like MADBALL, SICK OF IT ALL, FOUR YEAR STRONG, A WILHELM SCREAM, PARKWAY DRIVE, BLEEDING THROUGH, and others. With their devout supports behind them, COMEBACK KID has been playing sold out shows all over the world. The band stayed busy in 2013, performing on the Boys of Summer tour, Spring Break festival, Grozerock Fest, Pirate Satellite Festival, S.C.E.N.E. Music Festival, Amnesia Rockfest, Deichbrand Festival, Dour Festival, Resurrection Fest, Xtreme Fest, and Hevy Festival, playing hundreds of shows in between. Fans can rest assured that 2014 will prove just as impressive, with the release of their newest album, Die Knowing, a headlining US tour, and more surprises along the way. Hardly a "comeback", the guys of COMEBACK KID continue to remind us time and time again that they are here to stay.