Cookie-Einstellungen
Diese Website benutzt Cookies, die für den technischen Betrieb der Website erforderlich sind und stets gesetzt werden. Andere Cookies, die den Komfort bei Benutzung dieser Website erhöhen, der Direktwerbung dienen oder die Interaktion mit anderen Websites und sozialen Netzwerken vereinfachen sollen, werden nur mit Ihrer Zustimmung gesetzt.
Diese Cookies sind für die Grundfunktionen des Shops notwendig.
"Alle Cookies ablehnen" Cookie
"Alle Cookies annehmen" Cookie
Kundenspezifisches Caching
Diese Cookies werden genutzt um das Einkaufserlebnis noch ansprechender zu gestalten, beispielsweise für die Wiedererkennung des Besuchers.
FIT FOR A KING
+ EMMURE + THROWN + GLOOM IN THE CORNER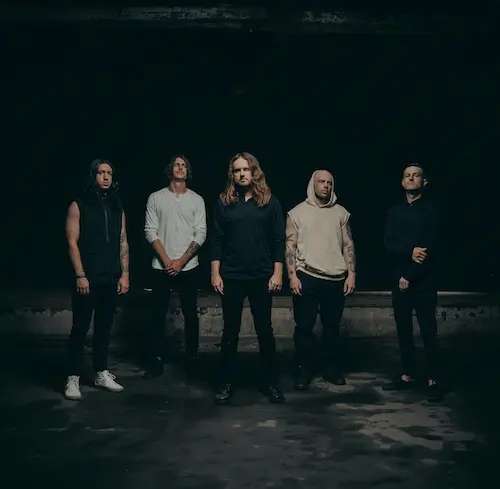 Dieser Artikel ist derzeit nicht verfügbar!
Online nicht mehr verfügbar. Bei nicht ausverkauften Konzerten gibt es Tickets in unserem Laden in Schöneberg (Tel. 030 301 06 80 80) oder an der Abendkasse.
35,45 € *
zzgl. Systemgebühr: 1,50 € *
inkl. MwSt. zzgl. Versandkosten
Datum:

Mittwoch, 6. Dezember 2023

Ort:

SO36

Einlass:

18:00

Beginn:

18:30
Veranstalter: Trinity Music
Trauma and tragedy transfer from one generation to the next. As difficult as it may be, we still...
mehr
THE HELL WE CREATE EUROPE TOUR 2023
Trauma and tragedy transfer from one generation to the next. As difficult as it may be, we still possess the power to break the cycle and start anew. Fit For A King ponder the pain of these cycles and the possibility to end them on their seventh full-length offering, The Hell We Create [Solid State]. The Texas quintet—Ryan Kirby [vocals], Bobby Lynge [guitar], Daniel Gailey [guitar], Ryan "Tuck" O'Leary [bass], and Trey Celaya [drums]—explore this ebb and flow with a deft, yet delicate balance of sharp metallic intensity and soaring melodic energy. Drawing on real-life experiences, the band members collectively rallied around Ryan and his family as they endured seemingly unending turbulence…
"The album is a reflection of the events that happened throughout the pandemic," recalls Ryan. "In short, my wife and I adopted children and had to homeschool them. She almost died from a stroke. The Hell We Create is by far the deepest and most personal record we've ever written." In 2011, Fit For A King emerged out of Texas with a searing signature style rooted in metal and hardcore and uplifted by hypnotic hooks. Following the breakout LP Creation/Destruction [2013], they earned four consecutive Top 5 debuts on both the Billboard Top Christian Albums Chart and the Top Hard Rock Albums Chart with Slave to Nothing [2014], Deathgrip [2016], Dark Skies [2018], and The Path [2020]. The latter marked their first #1 on the Top Christian Albums Chart and Top 10 on the Billboard Top Album Sales Chart. Plus, the band collaborated with fellow heavy-hitters such as August Burns Red and We Came As Romans. They've generated nearly 312 million streams on a catalog highlighted by "The Price of Agony," "When Everything Means Nothing," "Breaking The Mirror," and "Locked (In My Head)," to name a few. Of The Path, KERRANG! raved, "This is overall a sharper, bolder, more offering from a band who might just succeed in using it as a launch pad to bigger things," and Rock Sound hailed it as "brilliant."
Just before the pandemic shutdown, Ryan and his wife adopted her niece and nephew. Not long after, she suffered her stroke, and the frontman stared down darkness. "The record talks about the hell these children went through because of their abusive family," he notes. "They went to multiple shelters and seventeen different foster homes before we were able to start fostering and later adopt them. Since they're family, we know their story deeply. Their hell is completely created by others—like their parents and the system. After my wife's stroke, I was ultra-paranoid. I wasn't eating. There were these mental health phases of creating hell for myself. I've learned Hell is passed down."
In order to capture that sentiment, they reteamed with longtime producer WZRD BLD [Lil Wayne, Motionless In White, Highly Suspect], recording The Hell We Create over the course of six weeks in Los Angeles. Setting the stage for the next era, the band teased the record with "Reaper."Now, the single "End" kicks down the door with a barrage of rapid-fire riffing offset by squealing leads, pinch harmonics, and double bass. It crashes right into the instantly unshakable refrain, "Will you stay with me? I can't do this without you."
"It's about my wife," he says. "She had a 95% blockage in the jugular vein inside of her head caused by birth control. If one day passed, she would've died. It was the first time I was close to an unexpected death. I wasn't mentally or physically ready to do this, because I had never dealt with it." Then, there's "Falling Through The Sky." It hinges on a hard-hitting harmonic groove as clean vocals echo. The momentum builds towards the observation, "They say Heaven's above, and Hell is below, so why do they feel so close?" "It was about me coping with the idea of losing her," he goes on. "I grew up in church. I'm still a Christian. Everything made me realize how ill-equipped I was to deal with true tragedy even with all of the scripture I'd read. Once I looked the beast in the eye, it fell apart. I needed to use those tools to deal with these demons instead of ignoring them."
Ryan and Jonathan Vigil of The Ghost Inside trade vocals on the chaotically catchy "Times Like This" underlined by a gang chant. "Getting a guest spot from Jonathan was surreal because I've listened to him since high school," adds Ryan. "When you're divided, you don't fight together—you just fight each other. We are whatever the media or politicians tell us, and we're okay hating half the country. In reality, we have way more in common than not, but it's been orchestrated for us to stay at each other's throats." The album culminates with might be the band's deepest cut "What You Left Behind." He reveals. "The quiet singing is my point of view. The chorus is the kids speaking to their dad who they were taken away from. The last breakdown is me speaking to their dad, 'This is the damage you did to them. This is what you left behind when you left them'." In the end, Fit For A King delivers an important message on the record. "I want to raise self-awareness," he leaves off. "It's not just important to fight for ourselves, but we're fighting for others. You can reach out for help even if you're scared. I know I was. I hope we can all reflect on not only what we put ourselves through, but what we put others through."